Policy Review: Addressing the Complex Challenges of Regulating Biotherapeutics
FengYun Li

University of Calgary

Shalpinder Dhothar

University of Calgary

Elena Fekete

University of Calgary

Nishi Patel

University of Calgary

Tiffany Dang

University of Calgary

Rachelle Varga

University of Calgary

Syed Jafri

University of Calgary

Neliza Mendoza

University of Calgary

Siddhartha Goutam

University of Calgary

Nilesh Sharma

University of Calgary

Noshin Karim

University of Calgary

Nicholas D'Aleo-Sotas

University of Calgary

Christine Phan

University of Calgary

James Johnston

University of Calgary

David Nguyen

University of Calgary

Nick Jette

University of Calgary

Dan Ziemianowicz

University of Calgary

Mayi Arcellana-Panlilio

University of Calgary
Keywords:
Biotherapeutics, cell-based therapeutics, regulations, Health Canada, Public Health
Abstract
The advancing industry of biotherapeutics is providing the public with new promising and innovative drugs which may pose risks if their production, distribution, and marketing are not directly governed by legislation. Apart from international agreements, such as the Cartagena Protocol, there are no specific and direct laws or regulations governing manipulated cell-based therapeutics in Canada. The introduction of these laws and regulations in Canada will allow for the safe research and use of biotherapeutics in a proactive manner.
References
M. Fischbach, J. Bluestone, W. Lim. Cell-Based Therapeutics: The Next Pillar of Medicine.
Sci. Transl. Med. 5(179), 179-80. 2013.

Wilson Center. "U.S. Trends in Synthetic Biology Research Funding". Synthetic Biology Project, Pennsylvania, WA, 2015. Retrieved August 27, 2016 from http://www.synbioproject.org/publications/u.s-trends-in-synthetic-biology-research-funding/

J. Curran. "IBIS World Industry Report NN001. Biotechnology in the US". IBIS World, 2016. Retrieved August 24, 2016 from http://www.ibisworld.com/industry/default.aspx?indid=2001

Government of Canada. "Food and Drugs Act". Minister of Justice, Ottawa, ON, 2016.

N. Yeates, D. Lee, M. Maher. Health Canada's Progressive Licensing Framework. CMAJ. 176(13), 1845-47. 2007.

V. Nichols, I. Theriault-Dube, J. Touzin, J. Delisle, D. Lebel, et al. Risk Perception and Reasons for Noncompliance in Pharmacovigilance. Drug Safety. 32(7), 579-90. 2009.

"Biotechnology: Product Life Cycle". Health Canada, Ottawa, ON, 2015. Retrieved August 12, 2016, from http://www.hc-sc.gc.ca/sr-sr/tech/biotech/health-prod-sante/prod_life-vie-eng.php

"Toxic Substance Control Act". US Environmental Protection Agency, Washington, DC, 1976.

Secretariat of the Convention on Biological Diversity. "Cartagena Protocol on Biosafety to the Convention on Biological Diversity: text and annexes". Cartagena )Protocol, Montreal, QC, 2000.

Health Products and Food Branch Inspectorate. "Good Pharmacovigilance Practices (GVP) Guidelines GUI-0102". Health Canada, Ottawa, ON, 2013.

Health Products and Food Branch Inspectorate. "Inspection Strategies for Good Pharmacovigilance Practices (GVP) for Drugs POL-0041". Health Canada, Ottawa, ON, 2013.

H. Meisel, T. Ganey, W. Hutton, J. Libera, Y. Minkus, O. Alasevic. Clinical experience in cell-based therapeutics: intervention and outcome. Eur. Spine J. 15, 397. 2006.

International Conference on Harmonization of Technical Requirements for Registration of Pharmaceuticals for Human Use. "Pharmacovigilance Planning E2E Step 4". ICH Harmonized Tripartite Guideline, Geneva, Switzerland. 2004.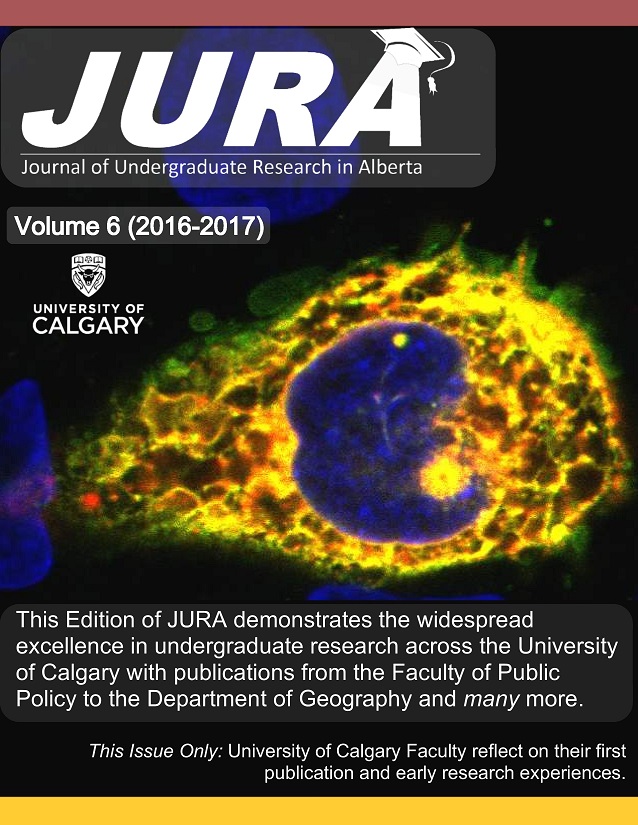 Authors retain all rights to their research work. Articles may be submitted to and accepted in other journals subsequent to publishing in JURA. Our only condition is that articles cannot be used in another undergraduate journal. Authors must be aware, however, that professional journals may refuse articles submitted or accepted elsewhere—JURA included.